For your first 3 months of service
When you sign up by February 15, 2017
3 Phases has provided Direct Access to renewable energy for over 16 years and we are now serving commercial and industrial customers in Oregon
Less expensive than other renewable and conventional energy options
3 Phases Renewables supplies renewable energy and RECs
3 Phases Renewables suppliers energy that is cleaner than other renewable suppliers
Freedom of Choice: Customers can pick the mix of energy that is right for them: 50 or 100% renewable energy
A low carbon energy mix is also available
Custom solutions are available, including local energy sources
* Rebate to be paid after 6 months of service. Offer made exclusively to commercial and industrial customers with facilities located in the State of Oregon that are currently customers of Pacific Power or Portland General Electric. Must sign at minimum a 12 month agreement for service with 3 Phases to claim offer. Offer valid on one service account per customer and subject to a maximum rebate of $10,000 per customer. Terms subject to change at any time without notice. Void where prohibited.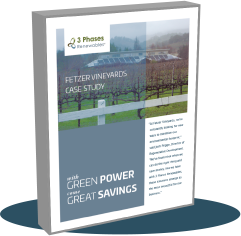 READ THIS CASE STUDY
Click here to learn more about how Hopworks Urban Brewery uses renewable power from 3 Phases Renewables.
"At Fetzer Vineyards, we're constantly looking for new ways to minimize our environmental footprint," said Josh Prigge, Director of Regenerative Development. "We've found that when we can do the right thing and save money, like we have with 3 Phases Renewables, those solutions emerge as the most impactful for our business."