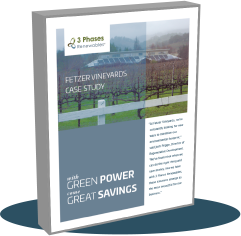 READ THIS CASE STUDY
Click here to learn more about how Fetzer Vineyards uses renewable power from 3 Phases Renewables.
"At Fetzer Vineyards, we're constantly looking for new ways to minimize our environmental footprint," said Josh Prigge, Director of Regenerative Development. "We've found that when we can do the right thing and save money, like we have with 3 Phases Renewables, those solutions emerge as the most impactful for our business."
3 Phases has provided Direct Access to renewable energy for over 16 years and we are now serving commercial and industrial customers in Oregon
Less expensive than other renewable energy options
We provide renewable power, not just RECs
Choose a mix of energy that includes 50% or 100% renewable energy
A low carbon energy mix is also available
Custom solutions are also available, including local energy sources